Meet The Grönefeld Horological Brothers
They are the up-and-coming name of dutch watchmaking, starting to compete with the best independent brands as their nomination in the Men's watch category of the next GPHG and their presence at the next SIHH shows.
The wonders of Skype enabled me to catch them in the quietness of their grandfather's workshop in Oldenzaal. Bart and Tim are playful, direct and authentic. No lyrical story-telling, no sugar-coated marketing. Straight to the point, quality-driven and focused. Judge for yourself.
Tell us about your beginnings.
We started as watchmakers and knew nothing about marketing. The start was to make a beautiful watch and that was it. We were waiting by the phone for buyers… we cannot say that we were overwhelmed by calls! We got international publicity through the watch press. Then we participated in Baselworld in 2009 for the first time… but got very little visits as we were totally unknown. The second year we got started on Facebook. This is definitely what started to bring brand awareness to Grönefeld.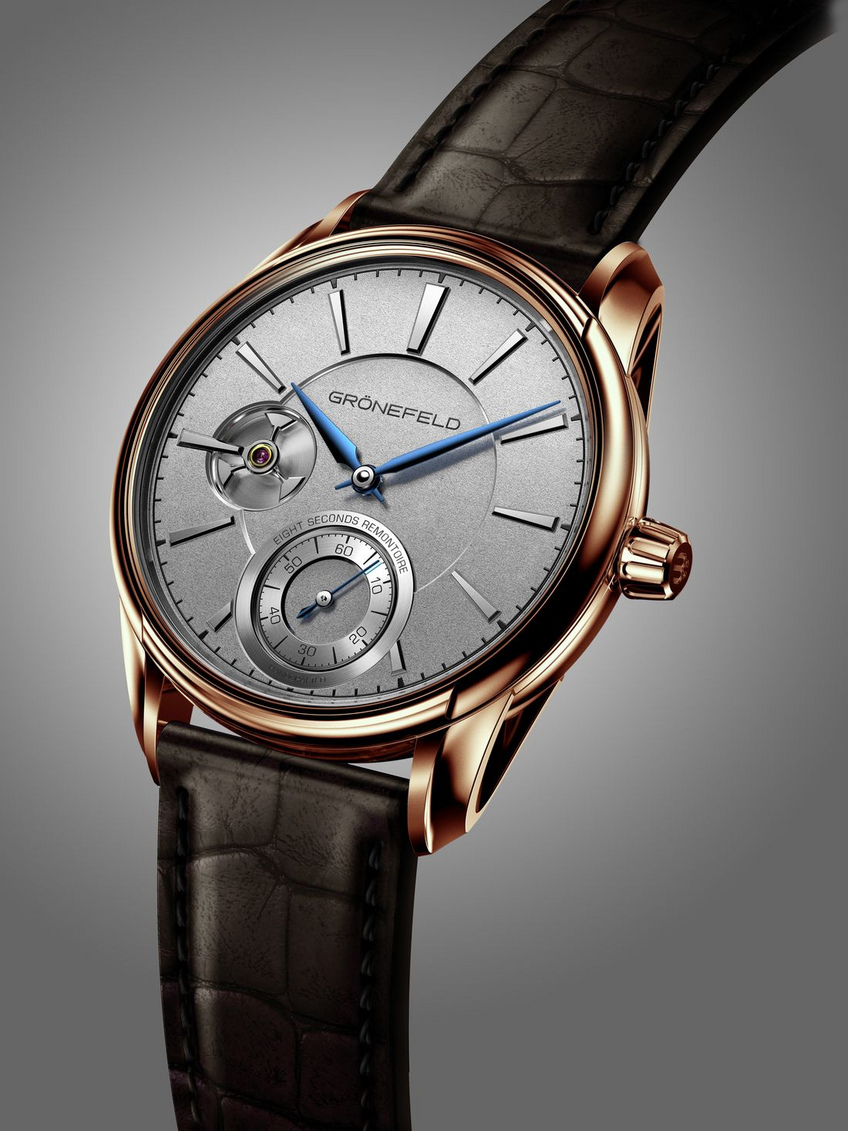 Grönefeld Remontoire 1941 Constant Force
How did you develop your brand?
We target collectors and reach them through forums. But Facebook helps to reach a broader public. We even made some sales by meeting people on Facebook, then getting in contact directly. We managed to be distributed in a few stores but sales were not happening. It takes 10 years to build a brand, so we are still very young but the brand awareness we already have among collectors is quite amazing. With retail, you have to do all the work: staff trainings, special events. But the only real sales occur when we are there. Collectors want to see who they are buying from, what exactly is in the watch and the creators are the best to promote their creations. You can do sales training of retailers' staff. It is important but it rarely turns into sales. To be honest, most of the time, people who are interested in our watches ask us all the questions directly. They just go to the shop for the delivery of their timepiece.
So you are selling more and more directly?
We do direct sales where we do not have retailers. But it is quite important, around 30% is done that way and it is developing. But collectors are also very loyal to their shop so they ask to go through them. Japanese are a great example of this, they will almost never buy directly.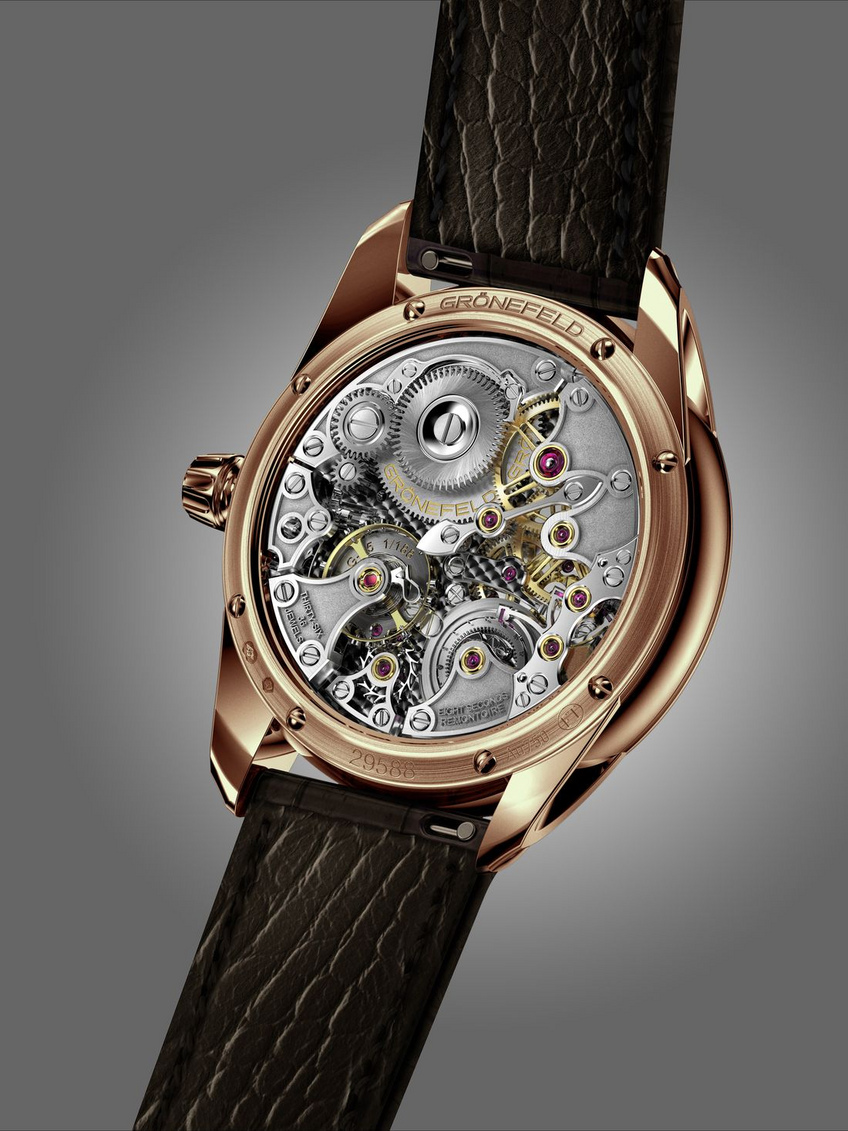 Grönefeld Remontoire 1941 Constant Force
Grönefeld is getting more and more attention these days. What makes you so special?
We are two brothers with one vision, aiming for technical solutions that always highlight the complications. We always make them visible so that watch lovers can appreciate the achievement. Our timekeepers work as an art show. Our tourbillon repeater has hammers on the front together with the tourbillon. The cage of the tourbillon is raised as high as possible to emphasize its display. The One Hertz, our second watch, shows a dead second. The jumping seconds are as close as possible to the glass to be highlighted. Our Remontoire 1941 displays its governor speed regulator (ensuring a constant force escapement) on the dial face through a small opening at 9 o'clock, enabling the owner to witness this constant spectacle as well.
What about your inner work on the calibers? Any Grönefeld specificities?
On the movement side, the DNA is really about stainless steel bridges (which are very hard to work on) with gold chatons. We deconstruct the caliber with one bridge for every wheel with raised hand-beveled and polished lips while the bridge surface is frosted to create a very specific contrast. This is our interpretation of Dutch watchmaking, it is really our own style.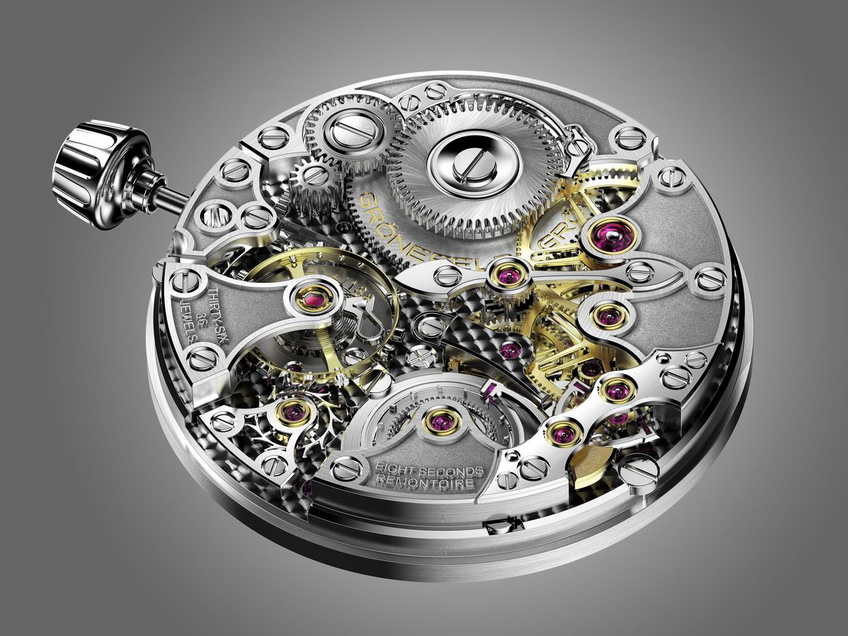 Grönefeld movement calibre G-05
How many watches do you produce yearly ?
Last year we made 25 Parallalax Tourbillon. With the Remontoire 1941, we hope to reach 50 watches in total. We have a team of 11 watchmakers, which is relatively small compared to the technicality of our timekeepers. Our target is to grow to 100 timepieces, but we do not think we can produce the same way if we go up to 500 or more. The amount of work on each watch, the level of quality of finishings cannot be the same with high volumes.
Do you make your movement in-house? Or do you consider Grönefeld as Swiss-made watches or as Dutch watchmakers?
Our first Tourbillon was done with a Christophe Claret movement but it was at a time before the crisis hit the industry. Now collectors are more aware of true value and are looking for something special. So we did everything differently with the One Hertz. We developed our own movement from scratch, it was really the (re)birth of the Grönefeld style. We do not produce everything in-house but we work it out with Swiss companies. The design of the Parallalax and One Hertz were done in collaboration with Renaud & Papi (Audemars Piguet), for whom we have worked a long time in the past. The Remontoire 1941 was developed with Andreas Strehler, another famous independent watchmaker. We are not a Swiss made brand but all parts come from Switzerland and are finished and assembled in Holland. It is a guarantee of quality for us and our customers. But we consider ourselves as the Dutch watchmakers we are.
Thank you Bart and Tim, I wish you all the best for the GPHG and the SIHH to come.
By
Joel Grandjean
,
Editor-in-Chief
If you ask me, there's nothing wrong with asking a non-insider to present the Geneva Watchmaking Grand Prix. Beigbeder is an author and omnipresent fixture...